The Comprehensive Guide To On-Demand App Development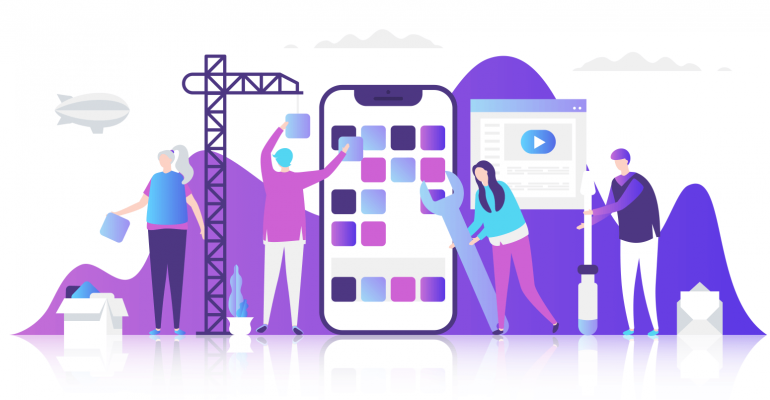 The Comprehensive Guide To On-Demand App Development
Every business thrives on fulfilling customer demands. With new technologies being introduced each day, it has been becoming easier to accomplish this. The on demand apps economy is on the rise. It allows customers to avail the services they want anytime, anywhere. No wonder, it's popularity is rising day by day. On that note, here is a complete guide to on demand app development. So, let's dive into the details.
Identifying the Target Audience

Whether you are building a food delivery app or one where customers can book a ride according to their convenience, it is important to identify the target audience first. For instance, people love ordering food online. This niche presents a large target audience. If you are planning to build an online grocery delivery app, the target audience, in this case, is working professionals who don't have time to go to a grocery store and shop for their groceries. No matter what your target audience is, they must have a collective issue that your on demand service apps are solving.
Solving a Common Problem

When an on demand app solves a common problem, it can widen its audience. For instance, there was a time when cab drivers had a really hard time finding passengers. Also, customers had to roam around the streets a bit to find a driver willing to take them to their destination. But when Uber launched it's on demand services app, it solved the problem both for drivers and customers. Now, no matter what part of the city you reside in, it's a breeze to get a cab driver willing to take you to your destination. On the other hand, it has opened job opportunities for drivers as they can register with Uber and drive for as much time as they want.
Integrate The Technology

The client or the end user and the service provider are the two main components of any business. On demand app development is a method to provide an interface to both the parties where they can interact and users can avail of these services. You have to integrate different features together when you are building on-demand apps. Let's take a look at some technologies that are a must for such apps.
Integrating Payments

No matter what kind of services you are offering, the payment system has to be secure, reliable and fast. Usually, app users are impatient. If your payment system takes a lot of time to load, they are likely to switch. After all, there is no shortage of competitors in this technological era! Keep in mind to integrate multiple payment options such as credit/debit cards, wallets, cash on delivery, etc. When users feel empowered to make a choice, they are likely to stick to your on demand app services. Have a lock icon displayed next to where the user is entering details. This helps build trust and users feel their information is secure. Moreover, you should provide the option to save card details for faster checkout. After all, no one likes to enter those massive numbers again and again.

Tracking Location

This factor specifically applies to cabs and delivery apps. When the users are able to track the real-time location of something they have ordered, they have better control. Moreover, for cab ride apps, it gives an exact idea to the user of the time their ride will arrive. When they are in the cab, they can also send their live location to family members for the purpose of safety.

Push Notifications

Push notifications are the best way to immediately catch the attention of users. It can notify them about the upcoming deliveries. If users wish to opt-in, the app can also provide push notifications about offers and discounts. This helps retain existing customers. Striking the right balance is a must if you are using push notifications. The purpose has to be to keep users engaged. However, make sure they aren't annoying. If the customers feel that you are being pushy with notifications, they are likely to uninstall the app and never look back.
Test The App and Launch

When the development of the app is complete, let the testing team get to work. Test the app for compatibility with different devices and apps. Try to fix any bugs as soon as you identify them. Remember, if the final product is filled with bugs, it will create a bad impression for the app and affect the download rate of the app later. Test the app from the perspective of the user. If you are satisfied, go ahead with the launch.
Take Feedback Seriously And Upgrade Accordingly

When you are publishing the app on different stores, wait for users to download and use the app. Of course, they are going to provide ratings and reviews. Take user feedback very seriously. If customers are facing issues, take note of them and fix the bugs in the next update. Also, keep in mind to reply to user feedback. This will increase the trust of customers and make them feel that you are listening to them. When you fix the issue in your next update, it will eventually help retain the customers. This way, the users are more likely to share the app with their friends. Remember, taking user feedback seriously not only widens your client base, but it also strengthens the existing clientele.
Summing It Up
Business owners strive to come up with comprehensive solutions for customer issues. If you are one of them, an on-demand app is the best way to go to increase revenues for your business. It helps you gain more profits and help customers by solving problems they face in their day-to-day lives. It's like shooting two birds with one stone! So, what are you waiting for? If you're serious about making the most out of your business, use the information in this guide to build a killer on demand service app and watch your revenues skyrocket!
At, Infigic we provides ready to go as well as custom on-demand app development solutions like grocery app development, food delivery app development, pharmacy app development and many other on-demand app solutions. Get In touch with us to jumpstart your on-demand service app Today!