How to Start a Cannabis Delivery Business in the USA?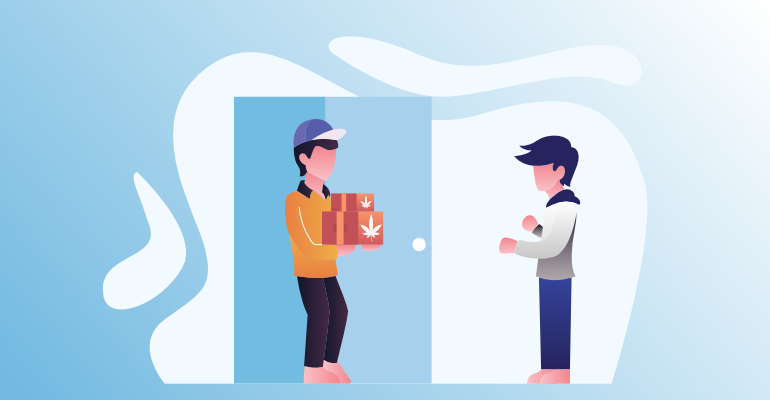 How to Start a Cannabis Delivery Business in the USA?
Are you planning to start a marijuana delivery business? And, why not! With many countries decriminalizing and legalizing it, cannabis sales are bound to soar high in the sky. Around 14 states in the USA allowed cannabis for adult use and 36 for medicinal use.
In the year 2020, there were $17.5 billion legal sales of cannabis in the USA. By the year 2026, the cannabis market of the USA is expected to reach $41 billion annual sales. The Sava founder and CEO Andrea Brooks in the interview said, "Legalizing Cannabis is like turning on the switch. It is going to increase year by year, and people will get comfortable with it." (Forbes)
Right now, the competition is less, and it is easy for you to set up a cannabis delivery service. However, starting up the same is a little tricky as well. Why? There are many barriers that you need to overcome. 
Here in this article, you will find details on how to start a marijuana delivery service in the USA. Let's move ahead!
How to Start a Cannabis Delivery Service?
There are many guides on how to start a weed delivery business, and this is one of them as well. But here, we have tried to make it simple and easy to understand. The steps mentioned include the process from arranging funds to executing a successful business plan.
Step 1: Arranging Funds for Cannabis Delivery Business
Not everyone has a full-fledged financial backup. You might need to look for business funds. For a regular business like apparel or food delivery service, getting a fund is easier than ever. But, for the marijuana business, it is too difficult. 
Even when cannabis is legalized, and financial institutions are at the agreement, they are cautious about lending credit to the cannabis delivery service business.
So what's the solution? You can either opt for Seed Capital or the funding platforms that support cannabis business startups. Few of them are Benchmark Capital, Floris Funds, Green Growth Investments, Founders Fund, Casa Verde Capital, Canna Angel, and many more.
Another alternative is to get funding from the existing cannabis delivery service businesses.
Step 2: Choosing Location to Start Medical Marijuana Delivery Service
Another important step is about selecting the location. Whether you are opening a food store or a weed delivery service business, always do extensive research before settling with the location.
There are two types of market – open and closed. The open market will allow you to set up a business with the proper legal formalities. On the other hand, the closed market usually prefers residents to start a cannabis/weed delivery service business.
Let's look at the best states (location) to start a weed delivery service:
California
Vermont
Nevada
Oregon
Colorado
Washington, etc.
Step 3: Get Licensing Done for Selling Cannabis
This is the crucial stage when thinking about how to open a medical cannabis delivery service. Whether you are selling it for adult use or medicinal purposes, getting a license is a must.
When you talk about delivering cannabis in California, it is legal to deliver up to a certain weight. However, that's not the case everywhere. Hence, get a business license first.
Now, here comes the real thing. You will come across two types of legal documentation: (A) When your cannabis delivery business has a storefront dispensary, and (B) When there is no affiliation with any storefront dispensary for your marijuana delivery business.
For the first case, you will have to apply for the Retailer business license, while for the latter one, you will have to opt for a Retailer Non-Storefront business license.
Step 4: Sourcing the Cannabis 
Usually, every cannabis business in the market has owned delivery services. So sourcing cannabis as stock from them is useless. You can either cultivate the marijuana on your farm or contact the grower/s and hit the discounted deal. 
Before closing the deal, make sure the manufacturer or the grower is genuine and legally allowed to grow the weed.
Step 5: Decide on Payment Options
What's the need to decide the payment method? Well, even though cannabis is legalized in America, 80% of card companies and banks don't want to involve themselves in the transactions of selling and buying marijuana.
So there are two options left for you, either go for the e-Wallet payment or Cash.
IMPORTANT POINT: Weed Delivery Compliances
Before you complete the guide on how to start a weed delivery service, there's one more thing you need to learn – Cannabis Delivery Compliances. Here are some points you need to keep in mind while delivering marijuana.
Transfer only legally permitted amounts of weed.
Don't hire a too big vehicle or the one with words or sketches depicting the marijuana. (You don't require unwanted attraction, right?)
Ensure the safety and security measures.
Install GPS and keep it on all the time to track the vehicle.
The driver should be at least 21-year-old with the documents highlighting he is allowed to carry or drive cannabis.
He shouldn't drive under any influencing substance like alcohol, weed, etc.
Step 6: Get the Approval for Cannabis Delivery App 
The idea of legalizing cannabis doesn't seem to impress Google Play Store and App Store. There are several cases where the cannabis delivery app has got a rejection from the stores.
Google has officially announced a ban on marijuana delivery apps in May. You can't directly sell weed from the app. In short, you can't keep the shopping cart option. It needs to take you out of the application. (The Verge)
However, Google also said they are working with the developers on solving technical issues and easing the process of moving the shopping cart flow outside the application.
Step 7: Contact the Reliable App Development Company
There are many well-known app development companies, and you can shortlist them with a snap. But you must look for the field experience while selecting the company for the cannabis delivery service app. 
Go with a company that has in-depth knowledge about the marijuana industry. It will help you build an app that won't get rejected in any mobile application stores.
Final Statement on How to Start a Delivery Service for Cannabis: 
This post had everything you needed to know about how to start a medical marijuana delivery service or cannabis delivery service in California or anywhere in the USA. And, we hope this guide helped you plan the right path for the marijuana delivery service business.
If you're looking for cannabis delivery app development service then get in touch with us, Let our experienced developers craft the user-friendly and scalable app for your cannabis delivery business.