How To Start An Online Grocery Store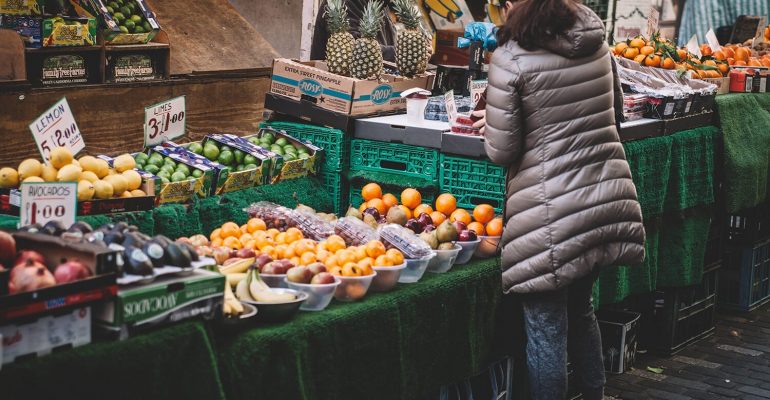 How To Start An Online Grocery Store
If you are thinking of starting an online grocery store…..
….there's this vital bit of statistics:
Accenture estimates that by 2020, out of the total retail consumption by shoppers worldwide, eCommerce will get 13.5%. In other words, out of every 7 dollars spent on retail consumption, eCommerce will get a little over 1 dollar.
Gold rush. Isn't it ?
Add to it the fact that there's practically no way you don't buy grocery – whatever the channel of purchase – you have a promising grocery market.
And yet, people planning to get into the business of online grocery store often think the market is the same as that of an e-retailers….
…….That's incorrect.
Beyond some superficial similarities the two businesses share, at an operational level, they are entirely different. For instance, an online grocery store deals with items that are perishable in nature, unlike an e-retailer who faces no such risks.
As a result, when you are trying to figure out how to start an online grocery store, you must address these issues in a superior manner.
So here's what you'll need to do before starting a grocery store.
#1 Understand And Research The Business
Online grocery is all about sourcing and delivering within the shortest time possible, given the inherent perishable nature of most of its products. You'll want to understand what do the local farms produce the most and what do they provide the best – often, these two things aren't the same.
Carefully study and analyze the buying pattern and habits of the geographical area you intend to serve. Since you are dealing with edible items, also understand the local licensing requirements.
Here's an example of Big Basket – An Indian Grocery startup – They are innovating in the Grocery space where they are delivering specialties of one region to another region similar. This is a niche area and yields high profit margins.
Golden Tip: Some of the products you can source might be organic, grown without harmful pesticides. If you can identify or cultivate a market for such products, you can get better profit margins.
#2 Identify The Model That Suits You Best
As mentioned earlier, the perishable nature of the items you intend to sell offers you some business models that differ in delivery, inventory, and payment terms.
The second most question that you need to ask yourself is :
Do you want to operate a warehouse of your own or choose to make arrangements for drop shipping, where your brick-and-mortar partner shop will deliver on your behalf ?
As you begin to explore this question, your business model will continue getting refined.
Let me share an example on how they disrupted the Grocery space :
Instacart's same-day grocery delivery service has disrupted the grocery market. This created opportunities for other startups to tap into online Grocery delivery business.
Instacart has partnered with major brands & retailers to delivery groceries to door step.
Golden Tip: It makes sound business sense to have a substantial portion of your offerings in the form of packaged foods that have a much longer shelf-life. For example : A can of Alphonso mango can easily be stored for weeks, while fresh mangoes may not last beyond a week.
#3 Ensure Your Suppliers Can Deliver
The biggest criteria to on board any supplier is to ensure whether they can deliver.
The deliverability has multiple factors like :
Stock/Inventory
Serviceable Areas (If they are ready to own the delivery piece)
Warehouse distance
Also a lot of entrepreneurs, think on the lines of Starting an online organic food & vegetable store and delivery service where they look at tie-ups directly with farmers. So, in this case there are multiple checks that you need to follow :
Not all farms follow best farming practices. As a result, their yield is less likely to be predictable regarding quantity, quality, and timely availability.
Once farm produce is ready, you'll need to find buyers quickly or else the product runs the risk of turning stale or otherwise unfit for consumption. And availability is not all – your supplier will need to supply the right quality.
With a good, seasoned supplier you can earn lasting customer loyalty.
Similar to Instacart the same-day delivery by Bloomex supplies fresh fruits & vegetables at your doorstep. This is also a great business model and a great opportunity to tap.
Golden Tip: Starting an online grocery store and running it is profitable and fun, provided you have the right supplier. From the beginning, set up a monitoring system for vendors.
#4 Get Your Technology Angle Right
According to Morgan Stanley Research, more than a 1/3rd of global online consumers are expected to shop their groceries online, which would set the stage for what could be the next significant opportunity for Mobile commerce.
The data makes it evident that technology will take a driver's seat for a seamless grocery shopping in the future ahead. Your online store is nothing but your website and your app.
Your technology partner needs to understand every feature, every requirement of starting an online grocery store and translate that into a technology-enabled solution.
At Infigic, we have worked on a dozen of Grocery startups and help them prosper with our ready to deploy grocery app & website. As a grocery startup, the most important thing should be your website, as well as your mobile app.
The website and mobile should be super fast, robust, secure and easy to use which would help you to scale as you grow.
Golden Tip: Choose the right grocery app development partner, and you're pretty much sorted. Our clients benefit from the vast experience we have in designing grocery websites and apps, specifically for online grocery stores.
#5 Make Sure Your Logistics Are In Place
At least in part, your technology partner can influence your logistics: your web or app must be appropriately integrated with your logistics partner. It will become very critical if you are carrying inventory in your warehouse.
With on demand platforms like Uber, customers these days need more convenience and real time updates. With Driver app, Your customers will be able to track their deliveries in real time also you would be able to assign the right deliveries and track the location of each driver. This makes the entire logistics & supply chain smooth resulting into a phenomenal customer experience & repeat business.
If, on the other hand, your business model is one of dropshipping, you will have to evolve a system of remote quality assurance quickly.
All this must be done within your costing constraints: remember, often people buy online as much for convenience as for getting a good bargain.
Don't forget; you're in the business of delivering stuff whose weight efficiently runs into multiple pounds.
Here an example of an interesting Grocery startup – how they solved the problem of logistics & supply chain creatively ….
Farmstead approach of relying on small distribution hubs to offer the curated selection of products is a win-win situation as they encourage customers to have weekly deliveries and waives delivery fees for subscribers.
Golden Tip: An online grocery business cannot handle too many product returns. Additionally, some products may need extra care in packaging and handling or may have to be delivered within a matter of hours to preserve the original taste or flavor.
It's essential your logistics partner is capable of all this because your business reputation rests upon how well you deliver your promise.
#6 Manage Shopping Carts And Payment
As your business grows, you'll begin stocking more items. While in itself it's okay, your online grocery store and app must have been designed to take a more significant number of items. There's an interesting point here that sets apart online grocery stores from e-retailers.
Buying grocery often involves more than one member of the family. If you can let registered users pool their shopping carts and combine their orders, you not only increase the chances of selling more but also cut your shipping costs, since you'll be delivering one consolidated order instead of many.
Here's an example of another Grocery startup :
Brandless has raised $50 million in funding and sells everyday essentials for $3 each.
Golden Tip: For items that you've partnered with grocers nearest to the buyer, you can always consider offering the Cash on Delivery (CoD) option.
The CoD has its advantage, and when you offer this as an acceptable payment alternative in addition to the regular electronic payment gateways, you're giving more reason for the customer to buy from you.
#7 Stay Profitable While Serving Better
Staying profitable means your revenues must stay ahead of your costs. With the high number of perishable items you carry, your online grocery store always faces the danger of irrecoverable expenses that result from products past their best-before dates.
The smartest strategy to keep that balanced will perhaps be to carry packaged foods that have a longer shelf life, and sometimes also a better profit margin.
Here's an example of an interesting startup which ventured into Online Seafood and Fish Delivery service – The biggest pain point they addressed was "How to start an online seafood & fish delivery service" –
Freshtohome tied up with fishermen who return from fishing trips daily. By, this way they are able to deliver fresh food to their customer's door step
Golden Tip: The more intermediaries you can cut, the better your margins. In certain items (say, dry fruits) you may need to depend upon intermediaries, but in other cases (say, fresh vegetables) you have the choice of striking a deal with the farm that grows the produce.
Such an arrangement can cut intermediary commissions, improve margins and deliver fresher produce.
#8 Build a Strong Marketing Program
Starting an online grocery store, just like any other business, requires you to design and execute a high-impact marketing program carefully. You can do it yourself, but you'll likely prefer having a specialized agency do it for you.
A full-service SEO agency that offers you everything from off-page and on-page SEO to content marketing and everything in between could be what you're looking for.
Another thing you can consider is having native advertisements or tying up with reasonably popular recipe YouTube channels or cooking blogs.
You can send them free samples of some of the items you carry, and in turn, they can use those ingredients or merely review your products.
Leverage popular YouTube channels and cooking blogs for impactful marketing.
Golden Tip: In most cases, grocery items have different names in different languages. Marketing best practices require that your online grocery store website or your mobile application for grocery store must offer multilingual features.
That can be done quickly – just integrate with Google Translate. That way you won't have to worry about losing customers just because your online grocery store didn't have the right word.
Conclusion
If you are looking how to start a grocery store these are the steps you should consider. We've left out apparent details like licensing requirements or great photography. But do you think we missed anything significant? Don't let us get away if we fell short; post your comments below and share what you think.
Looking to start an online grocery store, Get in touch with us and find out how we can work together to convert your grocery store idea into working grocery application.