Instacart Business Model: Insight How Instacart Works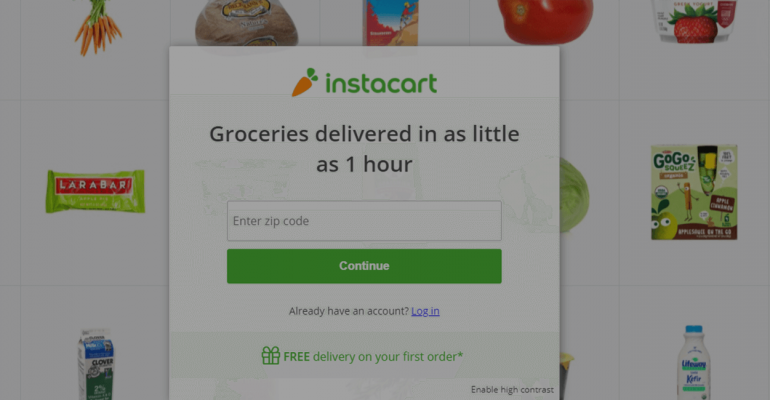 Instacart Business Model: Insight How Instacart Works
Instacart, a new on-demand grocery delivery service is revolutionising the grocery shopping industry.
Instacart began in 2012 by former Amazon engineer who realised there is a gap in the industry from what online ordering and delivery service was supposed to be and what he was experiencing from a grocery delivery service living in San Francisco.
The pickup and delivery service was still a pretty archaic system, everybody was getting things delivered to their homes at their doorsteps, but for groceries, he always had to go and pick and choose the items and so that kind of sparked one idea.
In 2012, he created a grocery platform -a new system that he called Instacart.
Instacart revolutionised the grocery demand industry with its partnerships with big names such as Whole Foods Costco super value.
It recently was ranked number as America's most promising companies in 2015 and is currently valued at 3.4 billion dollars after raising an additional four hundred million dollars.
How does instacart works?
Instacart provides same-day delivery service. They bring your groceries right to your doorstep.
It has its dedicated workforce that goes and shops for deliveries at these local stores, and on top, the Instacart revenue model is made up of markup on groceries plus the delivery fee in a revenue share agreement with its retail partners.
Once the order is received, your order goes to a personal shopper who then goes and visits stores and collects those items. The items are collected, and they are delivered to your doorstep.
It's fast easy to use and simple which is one of the key elements of success.
The biggest value prop is that you can order online from mobile from your favourite local store such as Whole Foods, Trader Joe's, Safeway, Costco public.
What are its differentiators?
We've talked about service, simplicity, and speed and convenience to some of the critical differentiators.
Instacart business model rotates around the three main client groups. Instacart is offering a value proposition for all three of these customer segments.
The Customers
Individuals who are placing the grocery orders. This is the best way to shop for groceries. Easy, convenient and you get the delivery within an hour.
The Grocery shoppers
The shoppers are individuals receiving orders and then going to these stores and purchasing those items on the customer's behalf. For shoppers, it is an additional way to earn part-time revenue and work within a flexible working schedule.
The Retail partners
The retail stores are partners who are tieing up with instacart and receiving the revenue from the purchase. For stores apparently, they're increasing their loyalty from customers outside of instacart and also offering an excellent online e-commerce channel.
How does Instacart make money?
These are three fundamental ways how they're generating revenue.
The markup on prices for specific stores
There is a delivery fee for products that are ordered and
There's also a membership fee for actually using instacart.
How much does Instacart cost?
Typically the instacart pricing model is based on membership fee where they charged $149 for a one-year membership.
What is instacart doing to create and deliver value?
Instacart offers its app for both iOS and Android users. The app is easy to use, it's very transparent regarding what you're paying in.
One of the critical successes of instacart is that they're very open about clearly calling out when specific products or specific stores have a markup versus others.
Their value proposition is the superior online grocery ordering platform and its customer service.
The Instacart business model is composed of the operational decisions which include pricing, location marketing initiatives and procurement agreements.
Instacart is based on the sharing economy, and the business provides advantages for both user shops and stores.
Competition
Major competitors to instacart online grocery delivery business include Amazon and Peapod.
Peapod is an internet grocer which serves the eastern part of the United States. It does not guarantee same-day delivery, but it does encourage customers to use a consistent weekly schedule which allows for next day delivery of their service.
Amazon fresh which is a grocery delivery service from Amazon.
The partnership with local farmers and the brand recognition of Amazon delivers value to specific customers. Amazon has recently entered into a deal to acquire Whole Foods Market Inc. It's competitive positioning in the grocery business will change dramatically.
The acquisition will improve the competitive dynamic for online grocery delivery and expand the market reach for Amazon's existing grocery business.
Operational efficiency
Instacart is going lean & intelligent. They have reduced the number of products that received higher markups. They're one of the first companies to map out how the local grocery stores are set up, so they know how much time the shopper is going to take to pick the products.
Instacart is using machine learning tools to predict daily inventory and staffing shortfalls to analyze the days they have more products or more staff and this tremendous predicting tool helps them to make their operations more efficient.
Conclusion
On demand Grocery delivery business has a promising future ahead as millions and millions of people want to order grocery sitting at their home or office.
With a deeper understanding of the Instacart's business model, you can plan and prepare your Grocery business plan and hit the market.
If you are looking to build the next Instacart, do Get in touch with us and we would help you to make your dream grounds up!