Meet Us At Magento Imagine 2019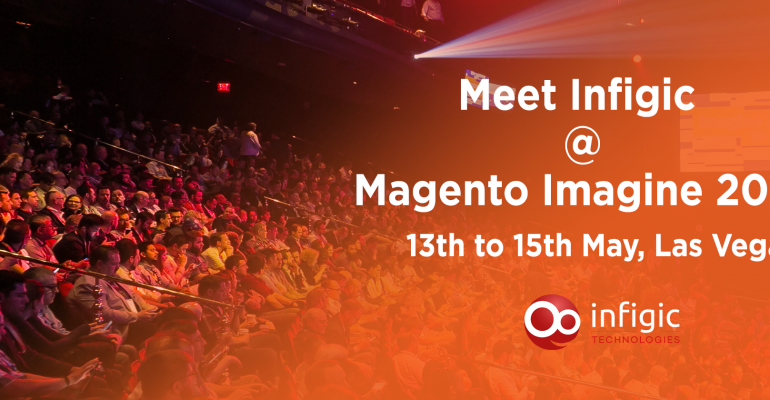 Meet Us At Magento Imagine 2019
For different people there are different reasons to attend Imagine 2019, Adobe Magento's big event. From learning to getting inspired to exploring new possibilities to networking, there's no shortage of reasons to attend.
And, not surprisingly, the event manages to ensure everyone who's there will find their objectives have been more than met.
As the super-cool ecommerce conference of the year, hosted a the Wynn Resort, Las Vegas this year, Imagine 2019 will bring together people who shape things and people who aspire, people who have mastered a thing or two and people who are ready to take things to the next level. And we're going to be there too, happy to shake hands and share and learn stuff that can improve customer experience and make buying and selling something really pleasant!
There's no denying that Gary Vaynerchuk of VaynerMedia as the Keynote Speaker is a strong reason to be there at the event. But hey, there's a lot, lot more too!
So what's up?
Plenty!
But first the fun part! You can begin with the Big Dam Race on 12 May 2019 to tour the Hoover Dam. As the event unfolds into the main programs, you will get to listen to some of the finest speakers talk on subjects they are really, really good at.
Top Magento executives will take up insightful data for Magento Business Intelligence. There will be labs to get hands on with Magento Page Builder. There will be Certification Exams. There will be Breakout Sessions on topics as varied as The Personalization Spectrum, Lessons in Luxury Ecommerce or How Interior Design leveraged logistics.
Looking for something more exclusive? You can explore Invitation Only events Like Rob Long from PayPal and others talking about improving mobile experience or Magento Commerce 2 Migration Strategy.
And most certainly, we'll all be looking forward to learning about Adobe's vision on taking Magento forward!
Basically, you will find every single way in which your peers and industry experts are unraveling the customer challenge of the ecommerce age!
Let's connect!
Of course we'll be there with our people who swear by Magento! We'd sure love to say hi to you and figure out how we can help each other. Like we can help you drastically improve customer engagement and help you build lasting customer relationships in the digital space. What's it that you can ace?
So if you're going to be at the event – Let's fix up a time to meet right away so that we don't have to juggle our calendars at the last minute! Schedule a meeting right now!
And if we know each other through Twitter or LinkedIn, there'd be one more reason to meet in person too!
We're sure keen to meet old friends and make new ones!
About Us
Infigic Technologies is a custom Magento development service provider. With a team of certified and experienced Magento developers. We have successfully launched and executed many Magento eCommerce store. If you are looking for the Magento development company for your Magento store development, we are the right partner for you.
You can also hire Magento developer from Infigic Technologies for your eCommerce store development at a cost effective price.