Migrate from Magento 1 to Magento 2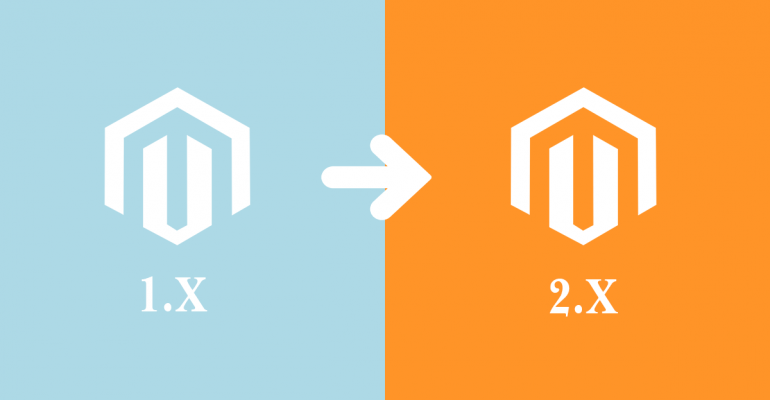 Migrate from Magento 1 to Magento 2
When Magento 1 was first released in March 2008, it is unlikely that the creators of Magento would have been able to forecast how popular it would become. Today, an estimated 240,000 online stores run on Magento 1.x.
The year 2018 is going to bring a major change: officially, support for Magento 1.x will be discontinued and Magento 2.0 will take over. Magento 2.0 was released on November 17, 2015, so its 3-year End of Life goodbye is set for 2018. Magento 2.0 aims to offer a faster loading and more powerful, smoother engagement which, in turn, is expected to lead to better conversions and more dollars for online stores.
Just as with any other technology upgradation, the migration from Magento 1.x to Magento 2.0 has led to a lot of questions and some concerns among developers, designers and store-owners. This post seeks to address the major concerns by focusing on the most critical aspects of the migration.
Preparing for Magento 1 to Magento 2 migration
Of course there are hundreds of aspects to be considered. That means you'll want to do a good deal of preparation, ask a number of questions and ultimately make some important decisions before you actually perform magento 2 migration process.
Editions that are below 1.8 Community Edition (1.8 CE) or 1.13 Enterprise Edition (1.13EE) are typically considered outdated. stores using any of these might already be experiencing problems, especially with third-party plug-ins. For these stores, the move must be made as early as possible.
The first step in your preparations, naturally, will be taking back-ups. Take complete backup of all the files, folders and databases. Here's the first decision you'll take: Which all data do you really want to take along? Outdated, useless data, (e.g. logs with recently viewed items) will probably be of no use and it's best you don't take that data along with you.
Secondly, migration best practices strongly recommend you create a clone store of your existing store that's running on Magento 1.x. That's because when you actually go for migration, you'll be using that cloned store, not your real, live store for the migration process.
Finally, you'll have to do some testing. There may be an unpleasant surprise or two for you, because some of your customizations, 3rd party extensions, some codes and even some themes may not be compatible with the new version of Magento. So you'll have to test what's going to continue working and what all you'll need to redesign or rewrite.
Once you've done the above, you're ready to move on to the next stage.
The four-part Migration
Magento 2 migration can be broken into the following 4 parts :
Extension migration


This part will take care of whatever extensions you have on your online store. Remember, few will of them be compatible with Magento 2.0.

Theme creation


Sadly, Magento 1.x themes won't work on Magento 2.0. Therefore, you'll need to new themes.

Data Migration


Magento 2 offers a Magento 2 data migration tool to help you migrate Magento data effectively.

Customizations


You'll see some customizations will work with the new versions while others won't.
Extension Migration
You had installed numerous extensions on your Magento 1.x store for better functionality and various features. It is unlikely they will work directly on your Magento 2 store. You'll see severe compatibility issues with almost all extensions.
The Magento developer community has been working very hard to come up with suitable extensions for Magento 2. You'll want to go around checking which ones you really need and then install them on a selective basis.
Alternatively, you can develop some extensions on your own. We recommend you to hire a Magento  developer for this.
Theme creation
This where you can, with some creativity, make the best of Magento 2.0 and create a rich experience for your customers.
While it is not possible to use your Magento 1.x themes directly, you can make changes therein to get what you are looking for. Or you can create new ones yourself from scratch. It is hard work for sure, but quite rewarding.
In case you'd rather have readymade themes, you may either buy them from Magento store or from a reputed seller who has kind of themes that will fit your requirements and budget.    In case you're buying, don't forget to check the version is 2.0 or else you'll have to go through a lot of hassle.
Data Migration
Thankfully, this is one area that is not only smooth but also seamless. Magento 2 has a fantastic Magento 2 Data Migration Tool that takes care of practically everything you need to work on when you migrate Magento data.
As a matter of fact, you can expect a lot more from the magento 2 migration tool. From your orders to products categories and orders, you can smoothly migrate everything.
To use the Magento data migration tool, you'll first need to install it. In order for correct installation, it's important your version of Magento 2 and that of the data migration tool matches exactly.
Customisation
Depending upon a number of factors, the customized code your Magento 1.x store uses may be compatible with Magento 2. However, in most cases, some additional work would be generally required for successful Magento integration.
As with data migration, Magento offers a Code Migration Toolkit that will help you migrate your customization. Magento 1.x and Magento 2 are very different in their structure so this toolkit will prove very useful.
You may check out the GitHub repository of Magento Code Migration Toolkit for more information.
Migration Plan
Now that you're clear with the four components of migration, it's time to lay out your plan for the migration.
Typically, you'll want to start with capacity planning. If your store is large-sized and has a huge number of customizations, there will be a number of failures (and frustrations!) as you try to migrate Magento. The official migration tool works mainly with default installations, so if you keep running into trouble very often, we recommend you post your experience on the official Magento forum. Since a lot of people would have already encountered a wide range of issues, there's a good chance someone has also experienced the kind of problems you are facing. You can share and learn from each other.
Next, build the new Magento 2 site and copy settings, media and all the data. This will help you run indexes on the next stage. The question sometimes people ask at this stage is: Is all the migration trouble going to be really worth it? Well, all the new developments, security and upgrades will be happening at Magento 2. Considering that, at least keep all your fresh investments focused and facing Magento 2, irrespective of when you actually move.
By now, you'll be ready to move all the incremental data to the new site. That would include data updates (product reviews or changes in customer profiles, revised orders, fresh orders etc) and changes. Once this is in place, you are all set to test the new site. Note any issues you face and go back to the drawing board. The testing stage is where you must be willing to apply the implement-learn-repeat cycle, so be a little patient.
Once you're confident you'll be able to make the move smoothly (this is not going to happen fast!), you are on another critical stage. You'll now put the old Magento 1.x site on hold – technically, you're going to put the Magento 1.x site on maintenance mode.   
Congratulations! You're pretty much done with the integration. Once you've resolved all the issues you spotted, it's time to get ready to re-index and flip your DNS settings to the new ones – there could be a few minutes of downtime after that, which is something quite normal. Now your migration is complete!
Addressing concerns
Firstly, a number of store-owners are concerned about the costs involved. Since a number of things will have to be re-designed, yes, there will be investments. The bright side, however, is that it will give you all a chance to re-think on things that you don't currently have but would like to, things you think are no longer required and things that you'd like to improve. So look at this migration as an investment in improving the user experience and building a stronger foundation for your next generation store.
Secondly, the migration will impact your SEO-targeted extensions. Cross-links, metadata templates and custom URL formats are some of the things that would be adversely affected or lost completely. As a result, your store can take a hit. We'd recommend you sit with your in-house SEO team for each issue separately. Or better still, consult an SEO expert who can recreate all the required settings and optimize your SEO setup and align them with the Magento 2 structure.
Finally, when Magento 2.0 was launched in 2015, there were some questions regarding its stability. Fortunately, almost all concerns have been addressed and you should have minimum trouble that's purely due to Magento 2 (the trouble will most likely be from areas like customization, as said earlier).
Concluding remarks
We'll be honest. Magento 2 migration is not simply an upgrade; it's actually a massive exercise that requires you to shift from one platform to other. Three things will decide how smooth your transition is going to be:
Whether you insist on doing everything yourself or whether you're roping in an expert who will help you move smoothly and swiftly. For projects that aren't very small, bringing in a solution expert will more than pay off.

Whether you have laid out a plan, spelling out every detail carefully so there are no surprises along the way. The more you've figured out in advance, the fewer the shocks.

How effectively you use communities, coding pools and forums. The migration is not going to be super-smooth, but sharing and learning is probably the best way forward.
Infigic has been helping a wide range of clients – from startups to large corporates. Looking for  Magento development service or Magento Migration service.Contact us to find out more about how our expertise can make a big difference to your business!