Top 20 Online Training Website Design Ideas For Inspirations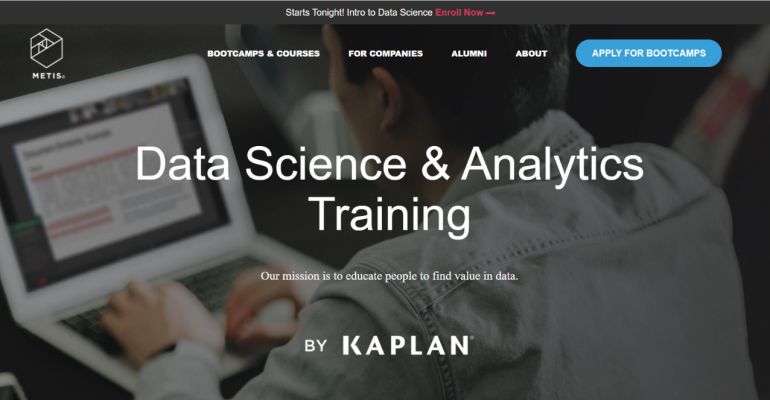 Top 20 Online Training Website Design Ideas For Inspirations
With the onset of technology, the propensity to get inclined toward learning websites has increased simultaneously. In light of this, the online training website has gained a huge traction due to closure of institutions amidst the pandemic. 
The free and subscription based courses are providing great learning to the learners. At home certifications, learning as per one's own schedule, and video based learning system are the major drivers fuelling the demand of online learning.
In this article, we have listed the top 20 training websites to help you to choose the best out of multiple options. Also, the courses which we have mentioned will be of utmost importance for your future.
Few statistics about online training websites:-
In 2019, about 52 percent of all students choose online degree programs due to existing commitments that did not allow them to attend campus-based courses in the United States.
During the survey in 2020 in the U.S., 50 percent of undergraduate students and 52 percent of graduate students studying online were female.
In 2019, about 68 percent of respondents stated that they chose to create an online program because they already offered an on-campus program in the subject area and wanted to extend it to online students.
Top Online Training Website Design Ideas for Inspirations:-
For training in Python
1. Udemy
Founded in 2010, Udemy is an American massive online course provider. The website aims for delivering advanced python sources for the students to get ahead in their professional life.  
Its step by step modules help in learning python from basics to advanced level and you will get the way to create your own applications and games. The website is very comprehensive and provides an overview of the course before getting started. The expert faculties also help in clearing the queries.
2. Coursera
Founded in 2012 by Stanford University, it is an American massive open online course provider. Its rigorous assignments and broad range of subjects will encourage you to keep up with python courses.
The expert teachers from reputed universities are able to deliver understanding content and that though in a descriptive manner. Also, the navigation of the website is well structured to find you the relevant courses.
In addition, the detailed description about the training modules and the study materials are an added advantage of learning through this website.
Java
3. Learn Java
It is a free interactive Java tutorial for people who want to learn Java. The website intends to deliver java training modules as per the needs of every learner. Its basic modules include introduction to java, variables and types, conditionals, arrays, functions, loops, objects. 
On the other hand, advanced course material includes inheritance, generic types, IO streams, and many more interesting topics. Learners can easily practice exercise sessions to get more clear concepts.
4. edX
EdX offers online Java courses from Microsoft, The University of Carlos III Madrid (UC3M), The Hong Kong University of Science and Technology (HKUST) and other top universities and institutions around the world.
It has a ton of courses that will teach java tutorials and other basic concepts for aspiring programmers. You will learn the Java code basics such as object-oriented programming, problem-solving, event-driven programming, how to create arrays and much more.
5. SoloLearn
With their interactive Java course, you will learn object-oriented Java programming, and have the ability to write clear and valid code in minimal time. The detailed course structure on the website helps in learning with them.
In addition, they appreciate their learners by mentioning 'top learners'. Their advanced training module helps in providing interesting learning experiences to the learners. They have a Q & A section for clearing queries.
HR Analytics
6. University of Pennsylvania
This analytics course is available on Coursera as part of Wharton's Business Analytics Specialization series of content. The course is available in English, Korean, and Chinese. The duration of this course is 11 hours.
In addition, the detailed description of the course structure and the expert lecturers are helpful in learning the concepts of HR analytics thoroughly.
7. AIHR Academy
This course is of 25 lessons and 8 modules and offers you knowledge using quizzes, assignments and applied exercises. It is in partnership with coursera.
The course aims for the HR professional who wants to get started with data. The course focuses on doing analytics using Excel and Power BI.
8. My HR future
It is the destination for aspiring HRs. Their certifications will help you in building your people analytics skills. In addition, the expertly curated content and detailed description of the training module help in getting more accustomed towards HR Analytics.
Their podcast and video series provides you a fun learning experience along with collaboration with the HR professionals.
9. Udacity
It is the best destination for the beginners. You can easily download the syllabus through their curated content and the videos will help you in knowing their teaching techniques. Also, over 5,500 graduates from 98 countries prefer Udacity for various courses.
The courses are also offered at discounted prices on special occasions. Their website has a well structured navigation. Additionally, you can get personalized feedback on your progress.
10. BitDegree
It offers the best courses on coding and that though from scratch and discounted prices. You will learn basic web development, creating forms, buttons, and other elements, HTML coding basics, and CSS basics in an interesting way.
Additionally, its course structure is best suited for every learner. It offers the possibility to learn in a fun and engaging way. Their interactive courses are visually appealing, educational, and functional all at the same time.
R programming
11. Datacamp
DataCamp Intro to R training course teaches you how to use R programming for data science at your own pace with video tutorials & interactive challenges. Its free course module is for 4 hours with 62 exercises and over 1,804,475 learners.
By learning through Data Camp, you will be ready to undertake your very own data analysis. Their expert faculties and collaborative learning environment will help you to get ahead in the field of R programming.
12. Lynda
Lynda provides you courses on how to use R, from beginner basics to advanced techniques, with online video tutorials taught by industry experts. You can start your own free trial for a month.
In addition, while navigating through the website, you will be acquainted with their course structure. It provides various courses for marketing, business, IT, and developer.
Data Science
13. Dataquest
Their hands-on data science courses will help you learn R, Python and SQL from scratch, so you can land your first data science job. You will be familiar with their interactive sessions, guided projects, and it also offers free courses.
The course structure entails exclusive and understandable content for every learner. Additionally, one can easily test their coding skills using this platform and you can learn data science at your own pace.
14. Metis
Metis accelerates data science learning for individuals, companies, and institutions through corporate training and immersive bootcamps. Their only mission is to educate people to find value in data.
They have over 2,500 alumni, and 1,100 clients. Their bootcamps, short immersive courses, and corporate training are the main areas of expertise.
Additionally, you can easily learn through their diversified teachings which is very well explained on its website.
15. Career Era
With the career era, you can easily pursue a PG course in data science. They provide a 12 month online program, multiple live projects, live online sessions, capstone projects, online lab sessions, and many more.
Their PG program entails Python, Exploratory data analysis, Deep Learning and much more. The website is very comprehensive which tells the benefits after completion of data analytics course from their course.
16. Upgrad
Upgrad provides you detailed courses on practical and theoretical knowledge of data science. Through Upgrad, you will study Python, SQL, databases, data visualization, data analysis, and machine learning in a detailed manner.
The detailed description about their instructors, programs, overview, tools, certification, notes, and benefits inculcate interest within the minds of website visitors.
Additionally, they have over 4,000+ learners and 300+ hiring partners, which is a great figure that shows reliability of the website.
17. Great learning
They offer a 9-month program with live online learning, online lab sessions and placement assistance. 150+ participating companies for placements with 20 L Highest CTC & 85% Average Salary Hike.
You can also download their brochure from their website to get accustomed to their services. The sections on learning modes, placement highlights, and testimonials are the point of attraction.
18. Code academy
The website provides course catalog, resources, community, plans, and pricing which helps in understanding the course structure.
Additionally, the detailed description about their beginner friendly courses seem helpful for the beginners. The drop down menu provides more relevant information.
They also provide recommended courses and you can easily get connected with them using the structured navigation.
19. Kaggle
Kaggle is the world's largest data science community with powerful tools and resources to help you achieve your data science goals. It provides 40,000 notebooks to conquer analysis in no time.
Additionally, the video on the homepage is very helpful to understand their teaching module. The comprehensive training modules and information about notebooks, courses, datasets, and many more incline the website visitors.
20. Cloudera
They have a 4 days workshop which covers enterprise data science and machine learning using Apache Spark in Cloudera Data Science Workbench (CDSW).
Participants use Spark SQL to load, explore, cleanse, join, and analyze data and Spark MLlib to specify, train, evaluate, tune, and deploy machine learning pipelines.
Additionally, the detailed course helps the learners to deep dive into the content and they have wisely provided overview of the course.
These are top 20 online training website design Ideas for inspirations
Henceforth, we can infer that the learning industry is witnessing a substantial change and the website developers are opting robust strategies to increase website visibility. The course providers are also investing in smart ideas to incline the learners towards their curriculum. This dynamic industry is yet to witness new pathways in the forthcoming years.
If you are looking to develop an online training website for your training business, then Get in touch with us, We have experience in developing eLearning and online training websites.