The Best Grocery Shopping Apps In 2020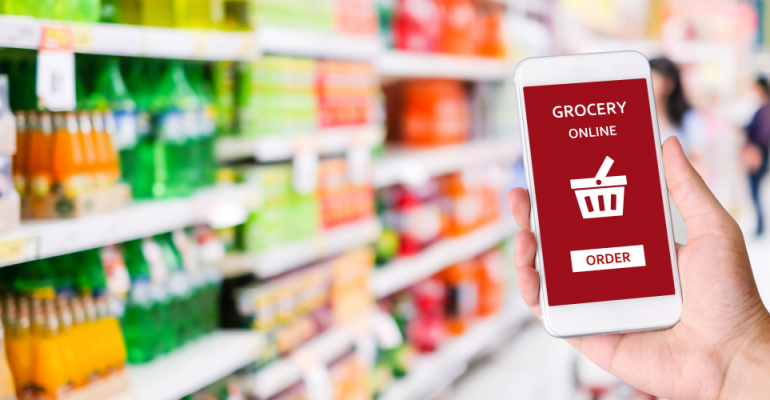 The Best Grocery Shopping Apps In 2020
There has never been a more exciting time to build a mobile app. From grocery apps to taxi aggregator apps to hotel bookings apps, people have found a great deal of value in these apps.
Apps have become so ubiquitous it's pretty much impossible to find someone whose smartphone doesn't have at least a few apps that they use on a regular – or even daily – basis.
And the best part is that the marketers, with the help of mobile app development companies, have begun building and offering some fantastic apps. Education, training, fitness, food, schedulers, shopping… you name it, there's an awesome app for that.
Even amidst all these fabulous apps, grocery apps stand out. That's simply because they solve the biggest problem of our age: shortage of time.
The grocery apps have made our lives easier: you may now purchase everything you need, from your smartphones. The items you purchased will be delivered to a location of your choice (often at no extra cost to you). Fresh fruit and vegetables, packaged foods, recipe ingredients, food grains, cooking oil, dry fruits… there isn't much these online shopping apps won't deliver.
Here's a definitive list of top 10 grocery apps in India and elsewhere:
#1. Instacart(USA)
In many ways, Instacart's is a story many companies could envy. Founded as recently as 2012, it's currently valued at US$ 8 BN. By definition it's a grocery aggregator meaning that it sources materials ordered by customers from partner stores. Currently, it offers same-day delivery services as well as pickup services in the USA and Canada.
It has tied up with over 300 national, regional and local stores. Customers logging into the app can choose their location and the store of their choice and place orders. Founded by an ex-Amazon employee, Instacart has its services in over 1,200 US cities.
Going beyond same-day delivery, the app makes a bold promise of making one-hour delivery. And this is clearly highlighted in the app.Once you choose your location on the basis of city or your ZIP code, you'll be shown what partner stores can you buy from.
What's more, you can also choose the time to deliver. As the order prepares for delivery, you can choose to track your delivery so that you may see the latest status of your grocery items. The design and colors are very attractive and their clean layout is something to learn from.
#2. Target (USA)
As the eight largest retailer in the USA, Target enjoys tremendous brand value. It was founded in 1902, 117 years back, and operates various formats of discount stores, hypermarkets and so on across its 1,851 stores.
While Wal-mart has positioned itself (and also is perceived as) the store where price-conscious people go, Target stresses on the needs of shoppers who are younger in age and more brand-conscious or image-conscious, and are looking for value.
The first thing you must admire is the design – the colors are really pleasant to the eye. They obviously know what color plays what psychological role! The design is simple and the images are very neatly laid out, taking the overall UI to the next level.
There's delivery as well as a pick-up from store option. Because there are over 1,800 Target stores, the Target grocery app lets you select what store you'd like to get your stuff picked up. The app also accepts Target Credit Cards, the cards that Target itself had launched through Financial and Retail Services. There are some great deals and offers, but you've got to time them right.
#3. BigBasket (India)
With over 40,000 items being offered, BigBasket has caught the fancy of the Indian grocery consumer. In many ways, BigBasket can be considered one of the pioneers of successful grocery apps in India.
It considers itself India's largest online supermarket, and perhaps rightfully so. Including the metros, BigBasket serves over 20 cities in India and is on an expansion mode.
When you first open it, the interface prompts you to choose location, which is a standard practice in grocery app development process. Successive screens will entice you with multiple offers in forms of discounts, cashbacks and the like.
It follows a no-questions-asked return policy – something that's both a big crowd-puller and a bit of risk in the diverse market of India. BigBasket banks upon, among other things, on-time delivery to establish itself as a major player. To encourage first-time visitors, there's a special offer of BBStar membership (valued at Rs 299).
Its side panel is relatively simple and clutter-free. It has also carries its special features (the BBStar membership, BB Specialty Store, Gift cards and so on) on the side panel itself, making them hard to miss.
#4. H-E-B (USA)
Another US major retailed with revenues exceeding US$ 25 BN in 2017, H-E-B is named after the founder's son Howards Edward Butt who took it from a small entity to a major player. It is over 113 years old and currently operates from 350 stores across the USA.
It also operates Central Market, a retailer that carries higher value items and organic foods. It donates five percent of its pre-tax earnings to local charitable activities. Despite its size and scale of operations, H-E-B remains a privately held company.
The interface is pretty clean and value-directed. The app clearly highlights one of the central benefits: "Have your groceries delivered to your home".
The home-screen is smartly designed as in offers two central value offerings: mode of delivery and offers. In mode of delivery, H-E-B offers Curbside Pickup, Home Delivery and so on. The H-E-B app stresses on savings and coupons. When you checkout, you are again reminded to redeem coupons barcode – and make you feel happy about having been a smart shopper and saved some money in a deal.
#5. Buy Me a Pie (Russia)
The story behind Buy Me a Pie starts with the founder walking inside a superstore and being flooded by text messages his wife sent him. While the messages were all about things to buy, the founder Sergey Bulaev thought it might be a great idea to build an app that simplifies the process and let share lists easily.
One of the few major grocery apps to come out of Russia, Buy Me a Pie has been getting steadily popular.
First, the flat design – it's pretty impressive, even among some great apps. Even TechCrunch said the design was very good. Another feature is how easily you can share your grocery list with a family member's phone.
The Buy Me a Pie app has so simplified grocery shopping that it might take some time catching up for me-too products.
#6 Ocado (United Kingdom)
Ocado began with an app for the iPhone in 2009. A year later, it came up with an Android app. Today, however, the Android app has some features that the iPhone version doesn't. As a partner to Waitrose supermarket, Ocado products come from its own brands as well as from the Waitrose chain.
Ocado began with an app for the iPhone in 2009. A year later, it came up with an Android app. Today, however, the Android app has some features that the iPhone version doesn't. As a partner to Waitrose supermarket, Ocado products come from its own brands as well as from the Waitrose chain.
The design of the app is good, but compared to, say, the Target app, the color combination, could have been a little better. When you're designing a grocery app, you can't forget that colors red and yellow are considered more important.
The app personalizes its delivery for you by allowing you a delivery slot of your convenience. It also delivers fresh fruit and vegetables with its 'always fresh' promise. It promotes both bigger brands as well as small, gourmet products.
7. MAF Carrefour (Middle East)
Even in the complex and competitive market of the Middle East, MAF Carrefour has done pretty well. Selling almost everything from packages and processed foods to fresh vegetables and fruit, the MAF Carrefour is serving a wide market.
A collaboration of the Majeed Al Futtaim group of the middle East and Carrefour, France, MAF Carrefour is a major name in retail shopping, including grocery.
The strong blue color, used wisely on the homescreen of the app, provides a fresh approach to app designs. The key offering is that you can buy pretty much everything from the app. Because the app and MAF group is present in multiple countries, the starting of app itself puts you a question to choose your country and language of choice.
The app also highlights the transactions are safe and the food items are safe and hygienic. You can choose the delivery time as well as where you'd like your order delivered. The functioning is smooth and intuitive.
#8. Grocery Pal(USA)
Built by Twicular, the Grocery Pal carries the spirit of Twicular, namely great deals. The company is based in Silicon Valley.
The major objectives of the app seems to deliver the best prices for the week by collating information and display the results.
The key value proposition here is savings and weekly deals from various superstores. Because it covers supermarkets as well as discount retail stores, the app performs its core function bringing the weekly best deals to users.
From beverages to fruit to packages foods, with this grocery app, you get everything that only a leading grocery app development company can design. It also helps customers save more by reminding about coupons.
Overview
| | | | | | | |
| --- | --- | --- | --- | --- | --- | --- |
| App | Size of the App | Downloads | Average rating | No. of reviews | Current version(for Android) | Location |
| Instacart | 14MB | 1M+ | 4.3 | 26,718 | 5.26.1 | USA |
| Target | 35MB | 10M+ | 4.4 | 122,590 | 6.47.0 | USA |
| BigBasket | Varies with the device | 10M+ | 4.4 | 397,341 | 4.9.9 | India |
| H-E-B | 16MB | 1M+ | 3.7 | 7,221 | N/A | USA |
| Buy me a Pie | 15MB | 5000+ | 4.6 | 22,605 | 3.5.21 | Rusia |
| Ocado | Varies with the device | 0.5M | 4.1 | 3,258 | Varies with the device | UK |
| MAF Carrefour | 35 MB | 1M+ | 3.7 | 12,218 | 12.035 | Middle East |
| Grocery Pal | 2.4 MB | 0.5M | 3.9 | 3,282 | 2.2.3 | USA |