10 Things to Consider Before Building Your Winery Website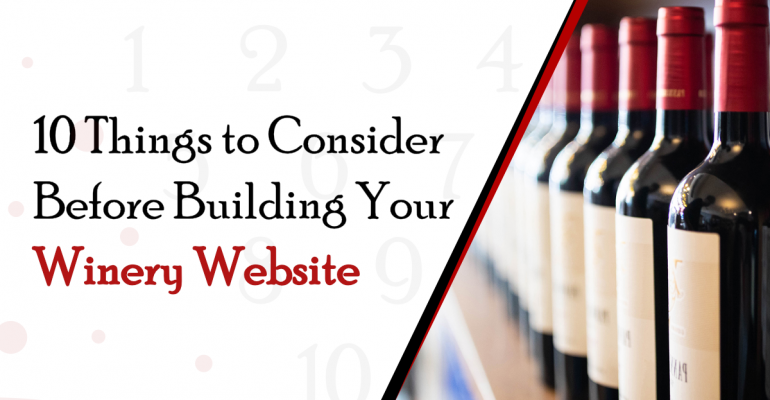 10 Things to Consider Before Building Your Winery Website
Every business is hopping on the trend of online selling. The scenario is the same for the wine industry. The online wine sales grew from $600 million in 2019 to $2 billion in 2020. The pandemic has been positive for many businesses, mostly SMEs, pharmacy, and alcohol industry. 
In 2019, online wine sales had a share of 2% of total sales, while in 2020 it went up to 10%. Also, according to Rob McMillan, the contribution of online sales will be 20% by 2030. (DigitalCommerce360)
Looking at the numbers, it is definite that the online wine business is soaring high and will stay there for longer. This is the right time you opt for a Wine eCommerce portal development company to take your winery business online (or start the new one).
Before you go for the website development for your online wine business, here are a few things to consider for a winery website. 
1. Permissions for legally shipping the wine
Before you think about building the eCommerce wine portal, consider how you will get permission to ship wine legally nationwide or in other states. When you take legal permits, you will need to pay taxes as well. Are you ready for that?
Many rookies in the winery business often forget about this and move ahead with the winery website design process. However, if you fail at this, everything is useless. Don't panic! There are two ways of getting legal permissions. 
The first one is to turn to each state and ask for Direct Shipping Permits. Then, turn on the shipping option in the eCommerce solution for the states where you get a permit. The second strategy is to turn to VinoShipper. 
It will get you Direct Shipping Permits in bulk within a couple of weeks and collect the tax report on your behalf. It is an eCommerce solution that you can plug into the website for easy legal shipping.
2. Goal of Wine website development
Always define the goal of developing a wine website or an online store. List down your purpose for the winery website and then hire a website developer. When choosing the website developer, look for the experience. Go with the one who has built winery websites and has in-depth detail about the industry.
3. Targeted audience
No matter what your niche is, deciding the targeted audience always helps. SEO (Search Engine Optimization) is about optimizing the website, and with the help of specific demographic information, your store will reach the right group of people. 
4. Wine website design
Another crucial aspect of developing a winery website is its design. The better the UI/UX of a website, the better will be the user's experience. Also, it increases the chances of lead generation. An appealing wine website will sway the user to explore more and check out your services.
5. Professional photographer and videographer
You can't let customers physically check your products, but give your best at the virtual presentation. Confused? The quality of your images and videos highly impacts the website. Hire a professional photographer and videographer for a day or two, and shoot the high-resolution photos and videos of your winery or vineyard. 
Best winery website design and quality images and videos will take your website to another level.
6. Requirements of your online wine club system
This one is important if you are planning to create a wine club. Check the eCommerce platform if it supports the wine club with recurring payments and credit cards, which you can adjust to the specific model. Along with that, you will also have to make sure whether it allows customers to log in and personalize the order or not.
7. Ease of Editing website
While selecting the eCommerce platform for winery website development, decide how much editing control you want on your website. Are you just going to get the website developed and handle the rest of the editing by yourself? Or everything is to be done by the development company.
Every eCommerce platform has a different structure and hence works differently. Choose from Squarespace, Shopify, WordPress, or any other eCommerce platform. Additionally, ask your developer for the video demo of the backend editor.
8. Accounting Features
This is another vital factor to consider. Do you want to download the monthly or quarterly report and manually reconcile it with accounting software? Or are you looking for direct integration? Select the eCommerce platform considering the must-have features, and see whether it combines with the POS/eCommerce systems.
9. Order and Shipping Process
Once you receive the order, how are you going to ship it? Are you printing your labels and exporting them or relying on the warehouse to do that? Are you planning to outsource for the fulfillment of the order? 
If that's the case, ask about the eCommerce system they are using and inquire about the procedure. If you are a wine producer and have a separate packaging unit, you will need to look for the shipment only.
10. Your Competitors
The last step is to consider your competitors. You should know about the competitors' strategies, how their online store looks, what they provide, and importantly where you stand against them. 
This process is known as competitor analysis. With the help of which, you will be able to market your eCommerce wine portal more effectively.
Wrapping up:
We hope this article helped you with the things to consider before building a winery website. If you are new in the business, you might like to read how to start an online wine store. 
To sum up, the entire article in a statement, we would like to say, "Starting a wine eCommerce website is not a troublesome process. You need to plan and opt for the best Wine eCommerce portal development company."
Infigic is the best option to go with, whether you want to develop a wine website or wine eCommerce platform contact us today to build your wine eCommerce store. We have years of experience in building a winery website. Just as we said, go with the developer that has the experience and in-depth knowledge of the field.