Top 7 Marijuana Apps for 2022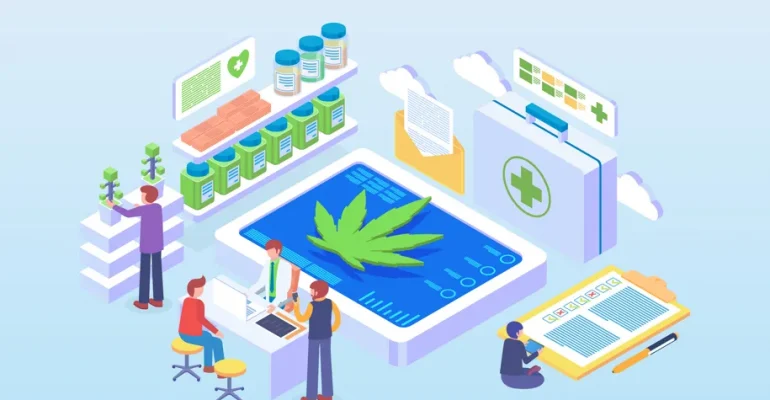 Top 7 Marijuana Apps for 2022
Growing number of states have legalized medical and recreational Marijuana in the mid 2010's. This saw a major increase in the sale and consumption of Marijuana. According to a Retail Dive report, Colorado's licensed retailers in 2016 notched nearly a billion dollars in sales one year after legalizing recreational marijuana.
The same report states that the global cannabis market has reached $150 billion, and by 2025 legal cannabis will encompass 77% of the market, or $166 billion.
With the result dispensaries have turned to eCommerce infrastructures in order to scale their operations and meet widespread demand. In this rush to capture and capitalize on the growing demand many small businesses took pace with the help of a digital platform and grew into well recognized establishments.
Leafly is one of them. It's app is considered as one of the best weed apps amongst all.
Leafly is the end destination to know everything about Cannabis and buy too!
Started in 2010, Leafly is now a website with with more than 15 million monthly visitors and 40 million page views across its website and mobile applications
Keeping Leafly as a benchmark, many existing cannabis dispensaries are now moving towards online cannabis delivery to reach out to a larger target audience thereby making medical cannabis a easily available strain.
We have listed out the Top 7 leading Cannabis delivery Websites & Apps that have really made their way in the eCommerce segment and are embarking as a role model to existing brick and mortar cannabis store owners and also startups. 
1. Leafly App
Leafy comes across as a one stop shop for cannabis. Every detailed information on the products and variety of strains available for purchase makes it a much sought after website/App whenever cannabis purchase is on mind. 
It's App in Android and IOS is one of the most popular ones on the radar of pot smokers.Additionally, the app also serves as the comprehensive database where you can find reviews and can filter as per store types, menu items and price.
Leafly ensures that for recreational cannabis use, provincially-licensed retailers, government retailers, and licensed producers are listed on its platform and apps.
2. Eaze
Now second on our Medical marijuana apps is Eaze which, as the name suggests, focuses on offering the medical benefits of marijuana. The app follows the format of Uber. This means that it has a simple user interface. The customer just needs to place an order, and the same can be tracked till it reaches its end destination.
This is very convenient as one can get delivery of edibles, cannabis flowers and extracts for the medical requirements right at their doorstep.  
The services to Eaze are limited to the US currently.
3. WeedMaps
Since its inception WeedMaps, it's been on an exponential growth with reference to the number of users of this app. Sites like WeedMaps mainly aim at bringing together cannabis specialists from across the world and the cannabis business under one roof. 
There are delivery services, doctors that the customers can consult with and dispensaries. There is a GEO tracking option which will automatically map the user's current location and add that as delivery address. Then there is an option to check at the closest locations that can assist with purchase of cannabis-based medicines. The website also has a search functionality to look out for the weed one wishes to purchase.
When it comes to a comparison on Leafly vs WeedMaps both are great and it mainly comes down to user preference. 
4. Vana
Vana, formerly known as Muncheez, is a marketplace marijuana app and a website too. This is again one of the top Marijuana apps, especially for weed delivery.  It recently raised $10M for expansion.
Vana recently revamped its website and introduced many features to the ecommerce platform like users can connect with dispensaries, doctors and brands serving the cannabis community. Whether for medical or recreational purposes, Vana sought to educate the world with accurate and helpful marijuana information while connecting people to trusted doctors and any legal marijuana dispensary nearby them.
5. GreenRush
The GreenRush is considered as one of the Best weed apps for cannabis delivery service.
The user interface is very simple and trendy.  This app allows the user to order any cannabis, weed, and marijuana and get it home delivered. 
However, Medical marijuana delivery depends on the user's current location and is perfect for vendors as they get the opportunity to enlist their inventory. 
6. Budly
This is similar to the Leafly app and the modern way in which patients using medical cannabis can get the medication easily, quickly and safely. The order placing functionality is kept very simple and straight. The user can place and order from the local dispensary through the app.  and he/she can track when their order is going to arrive through the app notification.
7. Weden
The main objective of Weden app owners is to make delivery of food products made out of marijuana. Weden app is simple to use and users can get quick access to the menu and place orders easily. They have special features on the app that makes re-ordering simple and the detailed blogs give relevant information on cannabis which can be used as a marketing tool as well.
Conclusion
eCommerce in Cannabis is undoubtedly picking up at a faster pace post the legalization of consumption in many countries and this has definitely lead to a surge in businesses going for setting up of an eCommerce website or marijuana apps to manage the business at a larger scale with a platform that is optimally used by the current generation.
Our list above is just a glimpse of how one can start an online website or app and make it a big size business.
In case you are looking towards cannabis delivery app development or medical marijuana eCommerce website you can reach us at [email protected]