Top Reasons to Choose Magento for eCommerce Website Development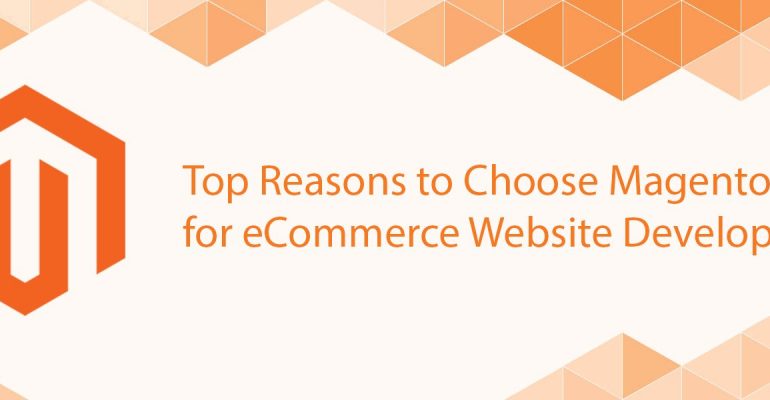 Top Reasons to Choose Magento for eCommerce Website Development
The decision to choose the best platform for your prospective online website is as crucial as the factors that go behind setting up a physical store.To give the best user experience the website should have all the required features and elements that are up to date from the technology standpoint.
Be it a small scale, medium or large scale business it will require a lot of time and effort to build a robust website. Juggernauts like Amazon, Alibaba, ebay have their own in-house development team that works constantly on the digital platform.
For start-ups or businesses that do not want to have an in house team, choosing the right platform and the right development agency is the key to achieve the goal.
There are multiple platforms in the market that are adding value to the solutions that they provide in order to fulfill all the website development requirements.
Our top favourites are Magento and Shopify. Shopify is a DIY website concept which largely caters to startups and small businesses. Being a DIY concept, the intervention of developers is very minimal here.
Magento, an Adobe company, on the other hand is a very versatile platform and also available in open source i.e Community edition for small scale business and Enterprise or Commerce edition for medium to large scale.
It is proven to be one of the best ecommerce solutions for any business model or size of business.
Magento revamped itself in a new avataar in the form of Magento 2 to give the best to its merchants and empowered them to seamlessly scale their ecommerce business. The new editions are more compatible with the Payment Service Directive and EU Directive, under the administration of European Commission to regulate payment services and payment service providers throughout the European Union and European Economic Area.

Let's have a look what Magento 2 Open source has in store for its merchants-
#1 SECURITY IMPROVEMENTS
Security of the website is of paramount importance as it deals with customer data and other private information. Magento in its latest version upgraded security enhancements that could prevent access to administrative control and customer information by hackers.
Magento has given guidelines for taking appropriate actions such as IP whitelisting, Two-factor authentication, VPN, using a unique solution instead of /admin, and strong password so that attackers are not able to get full control of the administrative access.

#2
PAGE BUILDER AS A FEATURE
Magento launched Page Builder feature that enables the merchants to constantly keep upgrading the website page content as and when new products or offers are launched. Merchants now have full control over how their products are showcased within page content: Sort products in Page Builder by product position in the category ​or list of product SKUs, or sort by various predefined parameters like name, price, stock status, and more. There is also and option to showcase products in either static product grids or in image carousels that feature matched products in rotating slides.
#3 PAGE BUILDER & PWA STUDIO COMPATIBILITY
Usage of PWA's has rapidly grown as they are quick and fast for today's tech savvy shoppers. Magento's headless storefronts being built using Progressive Web App (PWA) Studio saw incredible results. PWA's were made as easily manageable solutions for merchants.
The content created with Page Builder can be rendered in PWA as well thereby accelerating the optimization of pages from design perspective for both web and mobile view.
#4
INBUILT CHAT BY DOTDIGITAL
Magento has added an inbuilt chat feature in its 2.3.4 version. This feature is exclusive to the 2.3.4 version currently and may be extended to the upcoming versions going further.
Through this Chat, merchants can manage conversations and address enquiries with the end users in real time. The merchants can send and receive files, share product images and much more. Basically with the addition of this element as a part of Magento, merchants do not need to scout for chat extensions externally.
#5
ADOBE STOCK INTEGRATION
Magento has integrated Adobe Stock in Magento 2 for merchants to access and add high quality images to their websites. The Adobe images are professionally expressive and provide ease of use to upload the images in no time.
Click "Search Adobe Stock" from Media Gallery to seamlessly browse the full Adobe Stock catalog of millions of images within the Magento admin panel. Preview watermarked images inside site content to try before licensing, license them with your Adobe ID, and programmatically replace the watermarked preview with the licensed copy anywhere it has been used.
Magento Enterprise Edition
Magento Enterprise Edition empowers the business owner with even more features to add further possibilities while the scaling of business continues.
The enterprise edition undoubtedly has covered all the elements that are required for a fast growing company. There is constant upgrading in Magento from the security and scalability aspect to avoid any issues that might cause problem for the business.
Below are some key features that emphasize on how the enterprise edition is an ideal platform.
To get all the benefits of the Magento Enterprise edition you should hire Magento developer as working on the Enterprise edition shall require expertise to optimise the complete offering by Magento.
1. Security:
Magento enterprise version is PCI compliant and provides secured payment bridges. It offers "out of the box" multiple secure payment gateways like PayPal, Braintree, Authorize.net, CyberSource and more. The Enterprise edition has a regular scanning process and testing.
2. Performance
Enterprise edition loads faster for websites with high volumes of traffic or products.
You additionally get an option to deploy your software through the new Enterprise Cloud, which will increase the speed of deployment.
3. Shipping Configuration
Enterprise version has shipping integration with label printing – view, edit, print labels for all major carriers. Shipping integration for real-time shipping rates from: – UPS, UPS XML (account rates), FedEx (account rates), USPS and DHL.
4. Advanced Marketing Components
The marketing segment offers cross selling, upselling of products.The Enterprise edition offers some refined features like advanced content staging, sophisticated attribute-based customer segmentation, targeted content, abandoned cart reminder emails, etc.
5. Analytics and Reporting
Enterprise edition is integrated with Google Analytics for analytical output. It also has the provision to generate Sales and Tax report, Abandoned shopping cart report, Best viewed products report,Best purchased products report,Low stock report,Product reviews report etc.
Conclusion
The Enterprise version being advanced definitely has many inbuilt features which are not currently available in the community version.It offers certain added functionalities like return management authorization, promotion permission, enhanced catalog and CMS and call center software for ease in management of multiple functionalities at one place.
So If you are looking for Magento development service or want to hire Magento developer for your existing eCommerce store or need a completely new website developed, Get In Touch with us to know how we can work together to convert your eCommerce idea into reality.