What is InsurTech? – InsurTech Business Model and Companies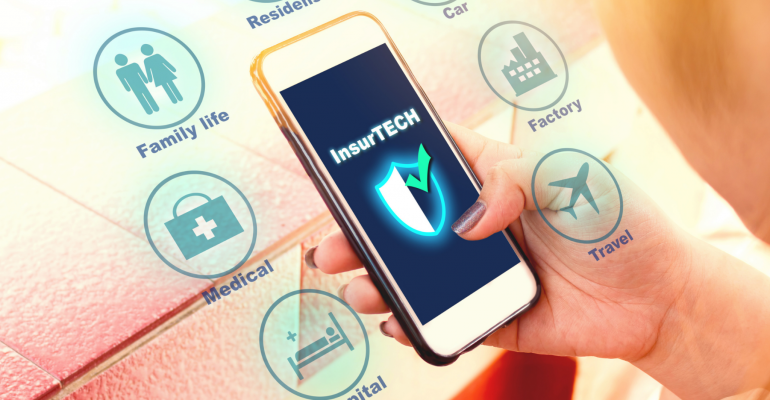 What is InsurTech? – InsurTech Business Model and Companies
Insurance is one of the oldest financial businesses that favours those who have long experience in the market. The term 'InsurTech' derives from the combination of two words 'insurance' and 'technology'. It means the adoption of emerging technologies to improve industry efficiency and add value for the customers. This post is a complete guide on what is InsureTech?, The various InsureTech business model and companies operating in InsureTech space.
What is InsurTech?
First let's understand what is InsurTech? The InsurTech refers to the use of technology that innovates designs to squeeze savings and efficiently from the current insurance industry model. It's a combination of the word "insurance" and "technology."
InsurTechs are technology-led companies that enter the insurance sector, taking advantage of new technologies to provide coverage to a more digitally savvy customer base. InsurTech can be any new technology introduced to insurers' operations to save on costs or streamline processes.
Since InsurTech is new by definition, its applications are constantly evolving. Generally speaking, InsurTech streamlines and enhances back-end processes, improves the customer experience, and saves the insurance company money.
InsurTech Business Model
Now you have understood what is InsureTech? Let's move to different InsureTech business model which are as follows:
Direct Insurers or Tied Agents – InsurTech Business Model
Direct Insurers or Tied Agents is an InsurTech business model where insurance company sells policies directly to customers without intermediaries. They charge low premiums because they don't need to pay commission to intermediaries.
A re-insurer insures derivative risks, which are the risks assumed by a direct insurer. In this category, we can find:
BIMA
BIMA is the leading provider of mobile-delivered insurance. The company provides insurance and underwriting to millions of low-income people via major mobile network operators. BIMA offers a range of affordable life, personal accident, and health micro-insurance products.
METROMILE
MetroMile is the leading pay-per-mile car insurance company in the U.S. This is a diverse team that combines Silicon Valley's best technologists with veterans from fortune 500 insurers, financial service Institutions.
TROV
TROV consumer app offered insurance for individual items that toggle on and off using "micro-duration policies". Trov partnered with insurance carriers to provide coverage for consumers belonging to protected through the app.
ROOT
ROOT requires drivers to perform test driving; if the driver passes the test, they offer a premium. Root only ensures good drivers to keep premiums lower than other insurance companies.
Cuvva
Cuvva changed the whole concept of car insurance rules, creating a genuine, useful, innovative way to think about driving with a fair amount. One set up on this app takes 30 seconds to be insured.
NEOS
NEOS significantly improves the way life insurance is delivered in the UK today. Neos aims to provide value-for-money products and outstanding service to people who want to buy life insurance through financial advisors.
Neos uses technology to create a smarter kind of home insurance actively there with the heart's interest, protecting what matters most globally.
Process-improvement InsurTech Business Model
Process-improvement InsurTech business model is a system of 'warm' hand-offs that was put in place to manage referrals to engineering support, minimizing call-backs. Different groups conducted the project from all affected departments.
It included workshops to map current processes, Pilot 'model offices' for all essential functions, operation management capability, and Lean techniques. In this Category:
Wefox
Wefox allows users to assess their coverage needs and personal consultation through the Wefox network, combining online research convenience with the reassurance of an offline consultation. The Wefox app also calculates if the user is getting the best rate across all their insurance policies.
Rentablo
Rentablo offers a 360° overview of their entire finances – Import all your depots and accounts directly from your bank. Do-it-yourself free wealth management implement. Rentablo imports and manages all your insurances and keeps an eye on the insurance portfolio and takes advantage of the low-priced fee consulting to optimize the insurance portfolio.
GetSafe
GetSafe is a fully digital insurance company that helps people cover themselves and their universe only from their smartphones. Using technology and machine learning, the company offers digital insurance products in all business lines- property, health, and life.
The Getsafe app is available to customers 24/7 and 365 days a year, allowing them to file claims or change their real-time coverage.
Marketplaces/Aggregators – InsurTech Business Model
Marketplaces/Aggregators InsurTech business model includes online platforms with numerous insurance products and companies that allow users to compare the prices with multiple insurances. Examples are:
PolicyBazaar
PolicyBazar has the broadest range of insurance, investment products on the PolicyBazaar app. It's India's largest insurance comparison app found in June 2008.
It provides a digital platform-website and app- where users compare financial services from major insurance companies.
PolicyBazaar has companies that offer car insurance, health insurance, life insurance, corporate insurance, and travel insurance as its business partners.
CoverHound
CoverHound adds transparency to the insurance industry, offering accurate rates and a curated list of best options for personal and business insurance needs.
The insurance advisors are compensated based on service and exceeding the expectations, not related to the sales commission. Coverhound offers an objective recommendation to help to find the best policy.
Insurify
Insurify lets you choose among the best coverage options for personal needs, compare discounts, payment options about each insurance company in one place. Insurify keeps the information secure. The data is encrypted and never sold to third parties.
Insurify wholeheartedly believes that technology can empower customers to make the best decisions for their personal needs.
Policygenius
Policygenius allows us to compare quotes from various insurance companies all in one place. Policygenius offers a robust database of articles on different insurance products. It helps to walk through the insurance purchasing process rather than passing off directly onto the insurance company.
Coverfox
Coverfox is an IRDAI authorized insurance broking firm. If anyone wants to buy insurance, they can compare an insurance policy's features and prices, but the best system deserves it. The website started in 2013 to make insurance simple.
Peer-to-Peer/Cashback – InsurTech Business Model
Peer-to-Peer/Cashback InsurTech business model derives benefits regarding premium proceeds, allows the individual to club their premiums together against risks. Examples are:
Friendsurance
Friendsurance introduced the world's first P2P insurance model that rewards staying claims-free. It is the digitization of insurance services for banks or insurance companies like Deutsche Bank.
Lemonade 
Lemonade business model includes underwriting profits to nonprofits of the customer's choice. It delivers policy, handles claims through desktop and mobile apps using chatbots. Its business models include giving underwriting profits to nonprofits of the customer's choice.
In 2020, Ohio-based financial analysis firm Demotech rated Lemonade's financial stability as A-Exceptional.
Sales, Marketing, Engagement – InsurTech Business Model
Sales, Marketing, Engagement InsurTech Business model offers focused implement to industry-related third parties, not brokers, mainly in the form of SaaS business. The process modifiers utilize technologies to improve specific parts of the value chain, fair pricing. Examples are:
Zywave
Zywave fuels business growth with the most expansive portfolio of cloud-based sales management. It leads the insurance tech industry, fueling business growth for partners with the most extensive cloud-based sales management portfolio, client delivery, content, and analytics solutions.
Over the years, Zywave and its employee have supported various local and national nonprofits by volunteering in the community, hosting creative fundraising events ranging from ice-cream socials to trivia contests to tailgate parties.
Welltok
Welltok improves people's total well-being, physical, mental, social, and financial well-being that uses priority data, advanced analytics, and engaging consumers. The leaders of Welltok create solutions that provide real, measurable value.
KASKO
KASKO innovates insurers to shape the industry's future and distribute a platform that operates between digital customers' touchpoints and legacy I.T. systems.
KASKO has a rare breed of entrepreneurs, insurance socialists, technology insurers. KASKO helps insurers and their partners' design, launch, and scale, cost-effectively, and at lightning speed.
CoVi-Analytics
CoVi-Analytics reduces the cost of compliance, helping insurers make decisions faster. It allows the insurance firms to extract value from their compliance activities and identify operational efficiency by building a smarter, more efficient, and engaging risk and compliance interface that simplifies the day-to-day dealings of business teams at banks, intermediaries with their compliance activities.
Zipari
Zipari is the only customer experience technology company to exclusively specializes in health insurance, offers a native understanding of the industry, promotes self-service, personalized communications, and supports real-time interactions.
Zipari's mission is to transform the health industry through consumer experience technology that improves member health and helps health plans succeed.
Qover
Qover executes hard, fast to build new insurance stack for digital revolutions.  It creates its insurance products, makes them available through open APIs. Any digital business model can embed or sell the products within minutes. Qover is cover-holder if the Lloyd's of London.
Sureify
Sureify modernizes the life insurance and annuity industry by helping companies service and sells to customers with one enterprise platform.
Sureify hones in one life insurance and determines from research that the next generation of insurance buyers want more clarity on the technical, often opaque financial product.
Conclusion
Now as you have complete understanding of what is InsureTech? and the various InsureTech business model and companies. In short InsurTech is the use of technology innovations designed to make the current insurance model more efficient.
InsurTech is exploring avenues that large insurance firms have less incentive to exploit, such as social insurance, to dynamically price premiums according to observed behavior. InsurTech is a subdivision of fintech new technology introduced to improve the operations and bottom line for finance companies. 
If you're looking to tap in this growing InsurTech business, Infigic has a ready to launch online Insurance platform and custom insurance aggregator software. Get in touch with us to know in detail how we can help you to launch your online InsurTech business.